by
Mike
on Thursday, November 17th, 2011
A Monkey grabbing my camera lens and trying to eat it
If you were to take a survey of human beings and ask what the funniest animal is, the overwhelming majority would answer "Monkeys". They're so similar to us, but still so different. There's something strangely familiar about the monkey, but still so animalistic. They have no rules and rely purely on their instincts, which means they're constantly getting into trouble and goofing around, which is what makes them so funny to us. Below are the top 10 places to visit if you want to see monkeys in the wild.
1. Sri Lanka
Grey Langur (AKA Hanuman Langur) Monkeys at Polonnaruwa, Sri Lanka
Sri Lanka is well known for it's wildlife in general, and not only for monkeys. However, everywhere I went around the entire island seemed to be infested by monkeys. Some nights I could hear monkeys walking across my roof, or banging on my window shutters; we'd have to dodge them crossing the streets while driving in the car. There were so many monkeys in Sri Lanka that they almost lost their charm. If you want to see monkeys (and several different kinds), go to Sri Lanka.
2. Indonesia
A monkey sitting on the edge of the cliff at Uluwatu in Bali, Indonesia
Right off the bat Indonesia was a shoe-in on this list, being one of the only countries in the world where you can find Orangutans in the wild (80% of wild Orangutans live in Indonesia). Orangutans live on 2 islands in the world, Sumatra and Borneo. Sumatra is in Western Indonesia, and Borneo sits to the north of Central Indonesia, and is split between Indonesia, Malaysia, and Brunei. The island of Bali in Indonesia doesn't have any Orangutans, but it has a tons of other monkeys. The monkeys in Bali are special too because they'r so comfortable around people. At Uluwatu (~40 minutes from Kuta) you have to be really careful of any loose items on you. Cameras, sun glasses, drinks, food… it doesn't matter, the monkeys will be after it. Same thing goes for the monkeys at the Monkey Jungle in Ubud, they're everywhere, and they know people equate to food. The odds of a monkey jumping on your back in Bali are high, which makes for an extra special, although mostly atypical monkey experience.
3. Malaysia
A monkey sitting in a tree in the heart of the city at the Kuala Lumpur Tower, Malaysia
Bali is good place to get up close and personal with monkeys, but it's a touristy experience. The presence of so many tourists feeding the monkeys has made it a very man-made experience, almost like a zoo. Malaysia on the other hand is a great place to see Monkeys in their natural habitats. Malaysian monkeys tend to be curious, but keep their distance from humans. You can't touch them and they don't steal your belongings, so these monkeys are not nearly as fat either. From Malaysian Borneo, to the city center of Kuala Kumpur, to the coast of Penang, Malaysia has a diverse and plentiful monkey population.
4. The Virungas, Rwanda (or Uganda)
A baby gorilla and his mother in the Virungas, Rwanda
If you'd like to see the big monkeys, visit Rwanda. In the Virunga Conservation Area you can take a safari through the African jungle following groups of Gorillas. If you'd like a wider variety of wildlife, and have some extra time, you're better off visiting Uganda. It's a bit tougher to get to, and about the same quality and frequency of Gorilla sightings, but you get the added bonus of Tree Climbing Lions, Chimps, and other exciting big game. Either way, both Rwanda and Uganda are great places to see wild monkeys up close and personal.
5. Gibraltar
A monkey sitting on the edge of the Rock of Gibraltar
For a quick and easy monkey viewing in Europe or Northern Africa, head over to Gibraltar. If you climb or ride to the top of the Rock of Gibraltar, you'll be greeted by tourist saavy monkeys looking to score a meal or some new sun glasses off you. These monkeys have been known to jump on people, and steal their belongings; even occasionally attack when they feel their young are being threatened. But mind your P's and Q's and you'll be fine. For more info read our article: The Monkeys of Gibraltar
6. India
Monkeys battling over a coke bottle on Elephanta Island just off Mumbai, India
India is a populated country, with some of the biggest cities in the world. As the cities expand onto monkey territory, the monkeys are left with nowhere to go, which has become a problem in some circumstances. In 2007 a group of monkeys attacked a politician at his home in Delhi, leading to his deadly fall off a second story terrace (http://news.bbc.co.uk/2/hi/7055625.stm). They monkey problem in Delhi escalated to the point where they had to get creative with a solution. What they came up with was to get bigger monkeys to fight off the smaller monkeys who were causing problems. No word on how that went, although when I visited New Delhi in September, monkeys were not a problem.
In Mumbai (Bombay) however, monkeys were still quite common. Head over to Sanjay Gandhi National Park in North Mumbai and you'll find loads of monkeys around the Kanheri Caves. Take a ferry to Elefanta Island and again, you can't miss the monkeys. The monkeys on Elefanta are similar to Bali in that they'll steal your lose belongings, however they're far more ferocious. They have men walking around with large sticks and sling shots, trying to keep the monkeys away from visitors. In the city of Agra, where the Taj Mahal is located, monkeys live side by side with the people. Driving through town you'll see groups of monkeys on roof tops, walls, or even in the busy streets.
7. Snow Monkey Park, Japan
Monkeys bathing in the hot springs at Snow Monkey Park near Nagano, Japan
33km from Nagano City is a place where 160 Japanese Macaque live and bath in a hot spring. Officially called Jigokudani Yaenkoen, the park is open daily, and monkeys are always around. This is a special place because year round you'll find monkeys bathing and relaxing in the hot springs. It's especially cool during the winter when they prefer to be in the warm water, and you see the red monkey faces up against the white backdrop of snow. Check out the image below for a live view of the snow monkey park right now!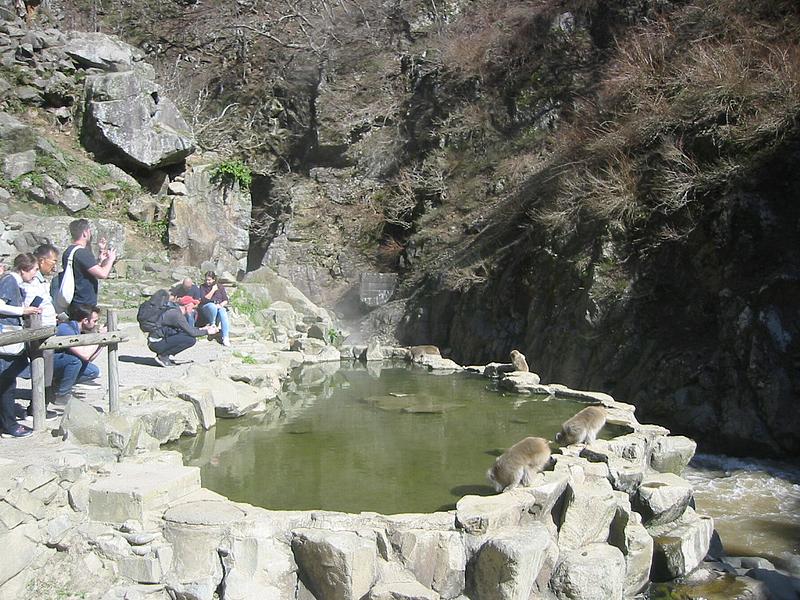 8. Costa Rica
Monkeys relaxing on a campers tent in Costa Rica
Costa Rica has 4 very different species of monkeys that live in their jungles. You won't find monkeys everywhere in this Central American country, but good places to find them are the Manuel Antonio National Park, Cahuita, Chirripo National Park, and Corcovado National Park. If you're in monkey infested territory, you need to be careful, some of the Costa Rican monkeys can be malicious. A friend of mine had monkeys trying to twist off coconuts so they fell on him. They also broke into his hut and threw his things all over the place.
9. Kathmandu, Nepal
A monkey running across some prayer wheels in Kathmandu, Nepal
It didn't take long to see monkeys in Nepal, about 30 seconds. As soon as we landed, even before disembarking from the plane we saw monkeys jumping from roof to roof above the airport. Then there were monkeys sifting through the trash as we boarded the bus to take us to our terminal. If you haven't caught a glimpse at the airport, head over to Swayambunath. Here there are monkeys running around, playing in fountains, they even have their own monkey pool (with a sign to point it out) near the large Stupah. The monkeys here will steal your food; we saw a monkey snatch an entire thing of cotton candy from a woman, then him and his friend ate it while she watched and laughed. Kathmandu, being the largest city in Nepal, does not have tons of monkeys. However, I can't see how one would be able to properly visit without seeing a monkey in Kathmandu.
10. Thailand
Monkeys eating watermelon on Monkey Beach in Koh Phi Phi, Thailand
In recent years Thailand has become a hot spot for tourism. It's no longer a backpackers haven, but a full blown commercialized tourist destination. The local Thai people have realized this and are taking advantage of it. You'll now find local hustlers making money by bringing animals to the streets for tourists to experience. Whether it's an elephant on Khao San Road, or a baby monkey in Koh Samui, it's tough to avoid this in tourist areas. This is one way to see monkeys in Thailand, but you'll need to get a bit further out to get a real monkey experience. One decent place is in Koh Phi Phi, at a place called Monkey Beach. You'll have to take a boat, and swim to shore, but once you do the monkeys will come rushing down from the trees looking for food. Be careful as these monkeys can be aggressive, when we were there a monkey attacked our captain to get his bag of watermelon, then the alpha male grabbed it from the other monkey and ate all of it.
Tags:
Agra
,
Bali
,
Borneo
,
Costa Rica
,
Gibraltar
,
Gorilla
,
India
,
Indonesia
,
Japan
,
Jigokudani Yaenkoen
,
Kathmandu
,
Khao San Road
,
Koh Phi Phi
,
Koh Samui
,
Kuala Lumpur
,
Kuala Lumpur Tower
,
Malaysia
,
Monkey Beach
,
Monkeys
,
Mumbai
,
Nagano
,
Nepal
,
New Delhi
,
Rwanda
,
Snow Monkey Park
,
Sri Lanka
,
Swayambunath
,
Taj Mahal
,
Thailand
,
Uganda
,
Virunga Conservation Area
Leave a Comment
Have something to say about this post? Please feel free to contribute your questions, answers, thoughts, advice, tips, or experiences about "
Top 10 Best Places To See Monkeys
" in the comments section below. We do value your responses and will answer questions when possible.